Thousands of prizes to be won daily on Mecca Bingo's Free Spinner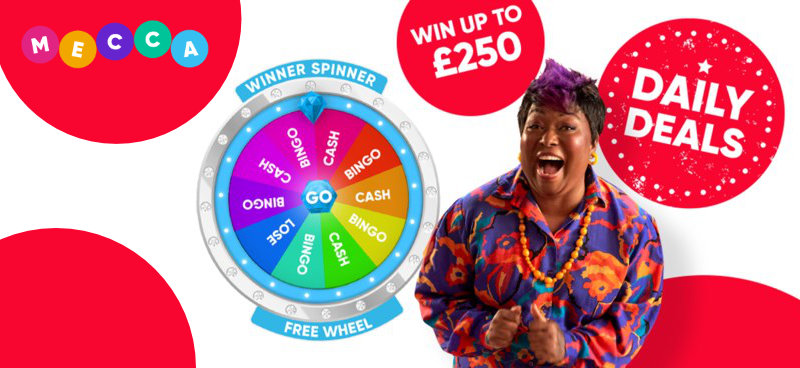 Who doesn't love winning free prizes?
At No Wagering, we love no wagering bingo sites - but we also love incredible free bingo promotions as well! Thankfully, our friends at Mecca Bingo is giving all of its players a chance to win daily prizes for free.
From 4th January 2022 until 4th April 2022, you are also to win a variety of prizes including cash prizes of up to £250 each day along with the opportunity to unlock the Premium Spinner for even more prizes.
How do I enter?
All you need to do is log into your Mecca Bingo account and click on the promotion each day from midday until midnight every day until 27th March 2022. That is literally all you need to do in order to enter!
What can I win?
As previously mentioned, you can also win cash prizes of up to £250 but you can also win bingo bonuses for specific bingo rooms or even free spins. It should be noted that 89% of all spins will result in a win according to Mecca Bingo.
There's also the chance to enter the Premium Spinner by depositing and staking at least £10 on bingo or online slots. This gives you a guaranteed prize including cash prizes of up to £500!
So make sure you qualify for this one to double your chances of winning great prizes. However, it should be noted that the Premium Spinner is available from 4th January until 30th January.
Free Spinner Terms and Conditions
The Free Spinner is available to all Mecca Bingo players who are verified.
You'll be able to play the wheel from 12pm until 11:59pm each day with one spin per day.
This promotion begins on the 4th January 2022 and ends 4th April 2022.
All wins from the wheel will expire after 7 days of being credited - apart from cash.
As previously stated, there is an 89% chance that you win on the spinner.