Celebrate National Bingo Day with PlayOJO's Bingo Festival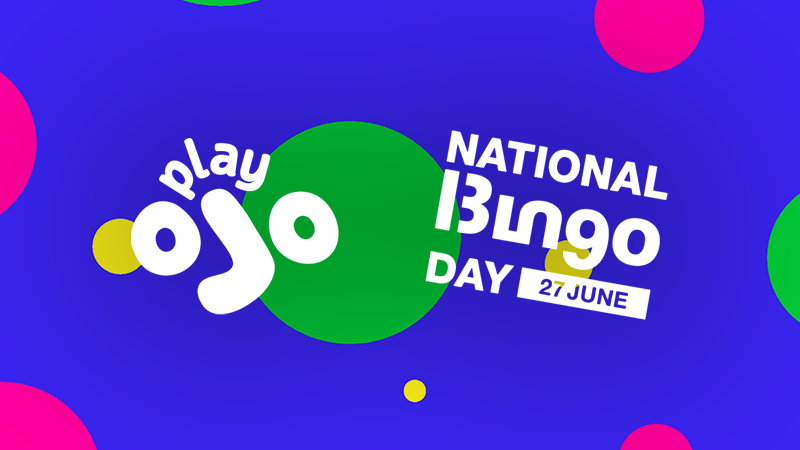 It's time to celebrate National Bingo Day in style with PlayOJO Bingo
National Bingo Day is almost here and PlayOJO Bingo is preparing a week-long festival to get all bingo-heads into the full spirit. From the 20th of June until the 27th of June, PlayOJO Bingo has games running 27/7 across all of its rooms.
Players will be spoilt for choice as there are penny bingo games, free bingo games and huge jackpots throughout the entire week - and yet there's even more than that. Bingo lovers should head on down to PlayOJO Bingo from the 20th of June.
What is National Bingo Day?
Officially on the 27th of June, National Bingo Day is the only day of the year dedicated to celebrating the wonderful pastime of bingo no matter how or where you play. Bingo is popular all over the world but the first National Bingo Day started in the USA.
It was only until 2021 that National Bingo Day became recognised in the UK and has been a staple ever since. Many no wagering bingo sites are preparing huge events for the week - but none quite as big as PlayOJO Bingo.
What's on the PlayOJO agenda?
Throughout the week, there are £10,000 in prizes in multiple different penny games. There are two penny bingo games twice an hour every single day with a £70 full house prize to be won in each game.
As previously mentioned, all the tickets cost 1p and the action takes place from 4:30pm until 10:30pm. However, on the actual National Bingo Day (27th June), there are bingo games from 4pm until midnight.
Value Day on 24th June
In addition to the penny bingo games, there are multiple different games on Friday 25th June. Firstly, there are more penny bingo games from 6pm until 11pm in the In For A Penny Room.
Alongside this, there are penny games available in the Disco Room from 10am until 2pm. It's not all about penny bingo, as there are free bingo games in the Launch Pad Room.
Finally, there are over 1,000 free bingo tickets available during the week if players can refer friends to join in on the fun.
Winners Day on 27th June
On National Bingo Day, there are three jackpots available to be won at any point during the day with Drop Pots with more than £7,000 to be won in daily prizes.
Players can also mix up the bingo in the Mojo Room with 1-to-go and roll-on games offering extra prizes as well as free and penny games from 6pm until 10pm.
There is also a special jackpot in the Masked Singer Room from 9am until 11pm. Finally, players can saddle up for 75-ball bingo games in the Rodeo Room which is available 24/7.
Terms and Conditions
This promotion runs from 20th June until 27th June.
All tickets range from 0p to 10p each.
If more than 1 ticket wins the same prize, then this will be split amongst the winners.
This promotion is only available to players who have made a real money deposit.